Polyurethane Thermal Column Bearing Blocks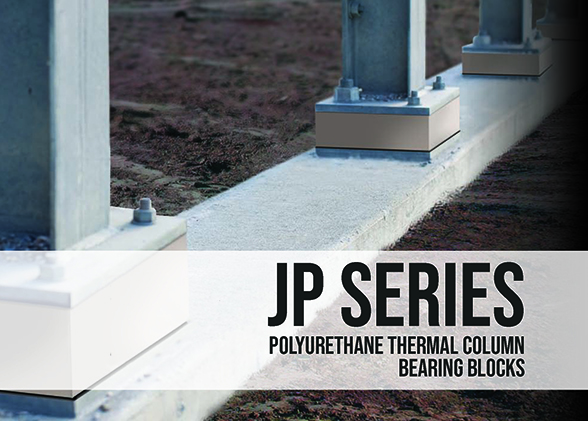 JP Series Column-Bearing Blocks are a high density, high-compressive-strength polyurethane foam that is installed between the concrete foundation and steel columns. The blocks provide a thermal break between the building interior and the supporting soils below, providing an effective thermal barrier between steel columns and the concrete foundation in low-temperature buildings such as freezers and refrigerated warehouses. Offering a higher R-value than lightweight concrete, treated wood blocks and other materials typically used in this application, the JP Series closed-cell foam blocks are stable, non-corrosive and customized for each job for fast, easy installation. Unlike wooden blocks, these foam blocks are resistant to moisture and will not rot, dissolve or absorb water. When installed below a column, they do not promote corrosion of steel.
Each product in the JP Series is named for its design compressive strength at 2% deflection: JP-1000 (1000 psi) JP-1500 (1500 psi) JP-1800 (1800 psi)
EASY INSTALLATION
JP Series Column-Bearing Blocks are supplied cut-to-size with pre-drilled anchor bolt holes available per customer specifications. Delivered directly to the job site, the product is fully cured and ready to use, streamlining installation.
SIZES
Custom Made For Each Job
JP Series Column-Bearing Blocks are made to order and delivered directly to the job site. Call or email us for delivery estimates and pricing.
Anchor bolt holes can be drilled at the factory. (Customer-supplied drawings or templates are required for factory pre-drilled anchor bolt holes. Pre-drilled anchor bolt holes should be oversized by approximately 3/8″ to allow for minor variations during installation.)
Available in three compressive strengths, JP-1000, JP-1500 and JP-1800, JP Series Column Bearing Blocks support allowable load capacity up to 1800 PSI.
Jasper Plastics is an industry leader in medium and high density rigid polyurethane foam products.
Advantages of JP Series Thermal Column Bearing Blocks:
Energy Savings – Reduced thermal bridging through steel columns
Strength and Stability – High comprehensive strength helps meet load support needs
High Moisture Resistance – Closed-cell polyurethane foam resists moisture, has chemical stability, and does not promote corrosion of steel
Easy Installation – Cut to size blocks are delivered to the job site and factory-drilled upon request.
Creep resistant – blocks resist distortion under load over time up to 2,100 psi
Chemically and biologically inert – products will not rot or decompose
Does not attract or support either insects, animals or other pests
Will not release chemicals into the surrounding soil
Compatible with most grouts, adhesives, and concrete
Contributes to LEED certification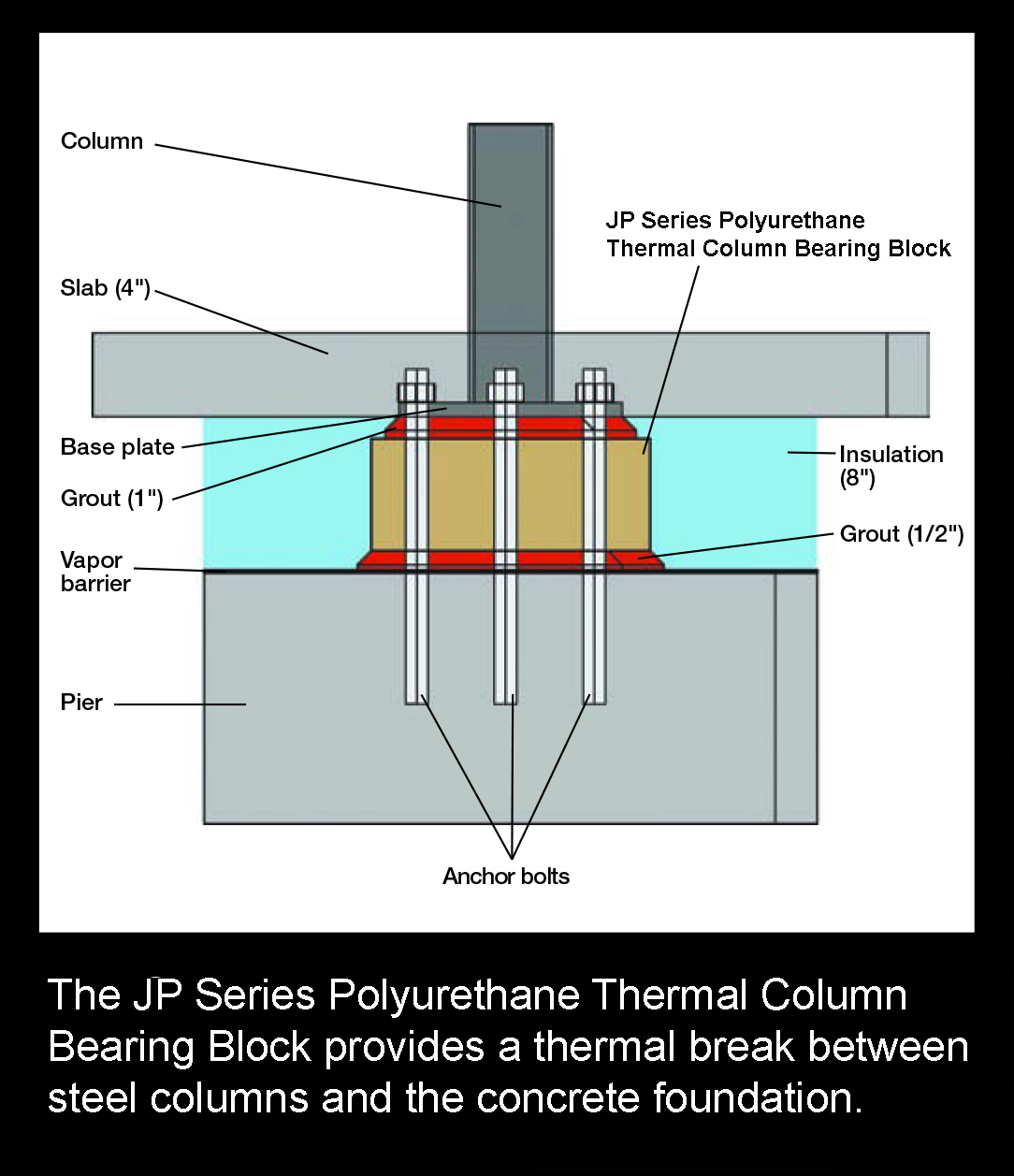 Performance and Simplicity
Greater Value
They are priced right, offer lower-cost over a longer life and cut utility costs.
Energy Efficiency
Foam's insulating qualities reduce thermal bridging through adjoining materials.
Fast Turnaround
Most orders will ship within 14 working days of approved shop drawing – the best ship times in the industry.
Smooth Installation
Blocks arrive ready to use, with holes pre-drilled if desired.
Solid Track Record
Our thermal column-bearing blocks have been sold and remained stable in use for 10-plus years.
Custom-manufactured for specific job requirements
Most orders produced as single-piece blocks with no field assembly required
Custom-cut blocks provided with optional pre-drilled anchor-bolt holes
TECHNICAL DATA
Applicable Standards
ASTM International
C518 – Standard Test Method for Steady-State Thermal Transmission Properties by Means of the Heat Flow Meter Apparatus
D1621 – Standard Test Method for Compressive Properties of Rigid Cellular Plastics
D1622 – Standard Test Method for Apparent Density of Rigid Cellular Plastics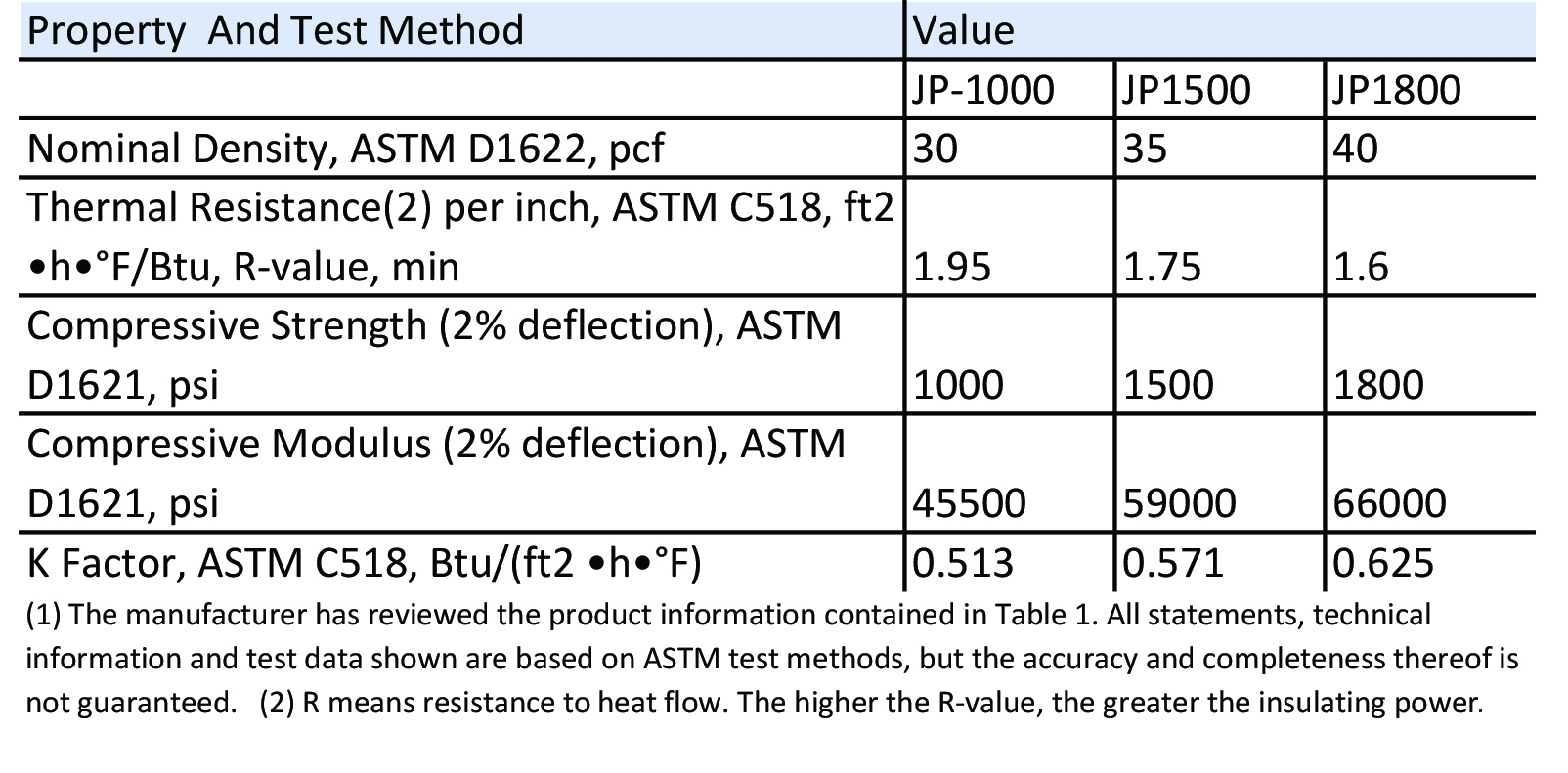 INSTALLATION
Install JP Series Polyurethane Column-Bearing Blocks on clean, smooth surface. Wet blocks should be wiped or allowed to air dry before installation. Do not allow blocks to bridge voids/gaps or to sit on surface projections greater than 1/8″ high. Fast-setting cementitious leveling grout should be applied between the JP Series Column-Bearing Block and mating structure whenever possible. Do not use any damaged or broken blocks. Contact a Jasper Plastics Solutions representative for more specific instructions.
FIRE PROTECTION
JP Series Polyurethane Column-Bearing Blocks are combustible. Protect from high heat sources.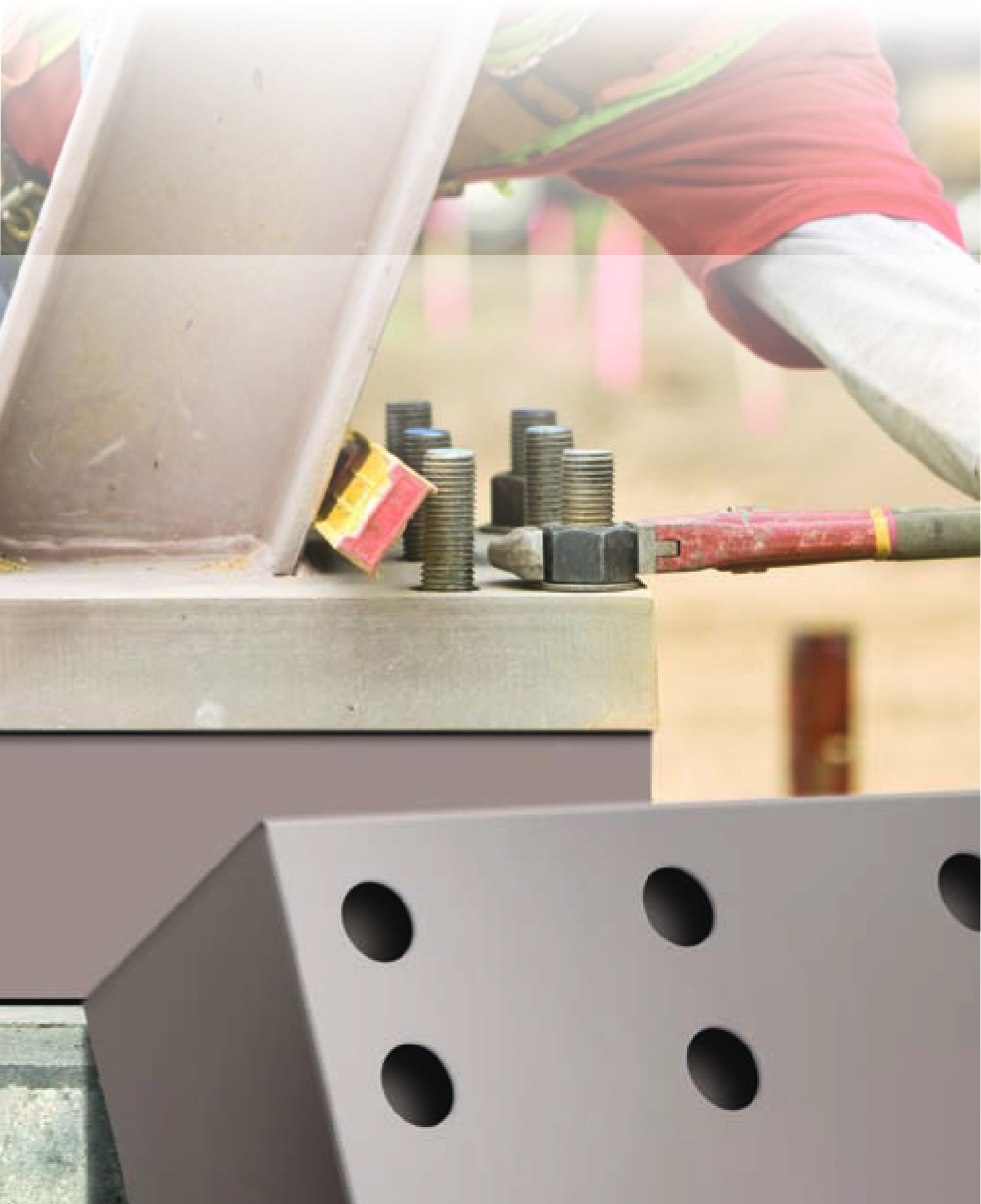 Design, use and installation must comply with the requirements of all applicable codes and is the responsibility of a qualified design professional. Product code acceptance is determined by the local authority having jurisdiction. Jasper Plastics is not design responsible.
All designs incorporating these blocks should include appropriate engineering safety factors to ensure safe and adequate performance. The designer or specification writer is responsible for product selection as well as the use and application of this information, and should contact the manufacturer to ensure that all options are available and that the associated specification information is valid and correct.
All Jasper Plastics products are manufactured in the United States, and are free of CFCs and VOCs.
Jasper Plastics Solutions
501 West Railroad Ave   Syracuse, IN 46567
phone: 574.457.2062
fax: 574.457.2069